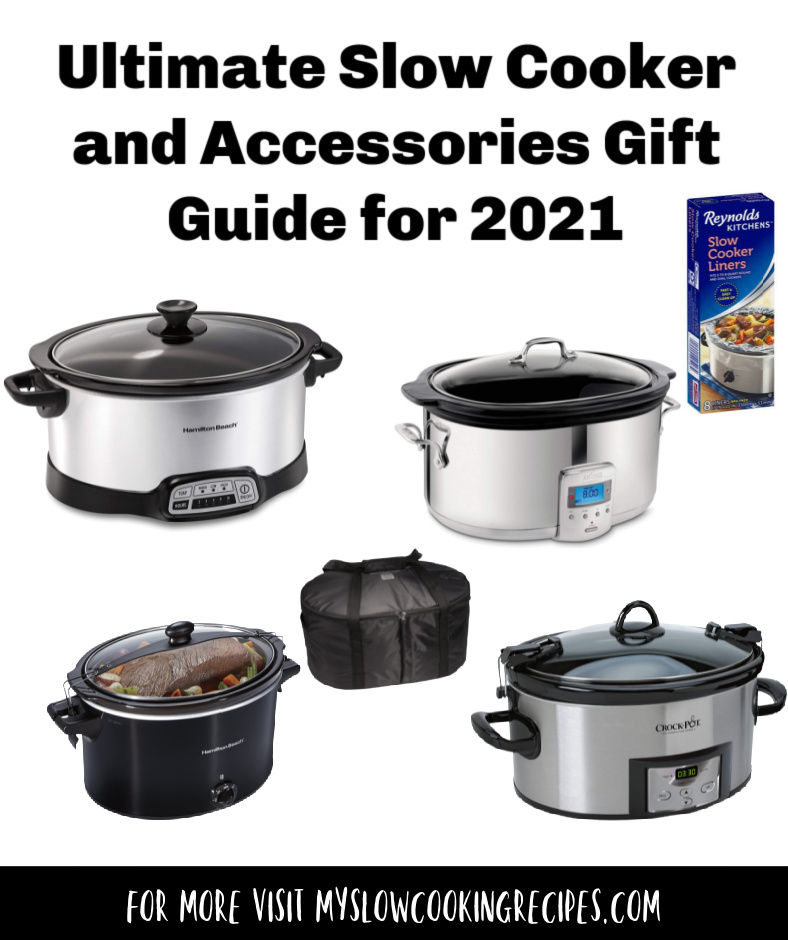 Give a gift that keeps on giving!
There's almost nothing better than walking into your kitchen after a long day of work and being surrounded by the delicious aroma of a roast in the slow cooker. Although I am a huge fan of my air fryer and Instant Pot, I have to admit that my slow cooker was my first love. It was so easy to throw all the ingredients in the pot, sail out the door, and come home to a fully cooked meal.
Slow cookers make an excellent gift for newlyweds, college-age kids, or other parents who simply NEED a break when it comes to cooking for a family. I remember how overwhelmed I felt after having kids. I used to spend hours in the kitchen making my favorite Italian dishes. Then, in an instant, I was spending hours changing dirty diapers. It wasn't an equal tradeoff.
If you love your slow cooker as much as I do and want to share the love with someone else this year, read on to discover my Ultimate Slow Cooker and Accessories Gift Guide for 2021. And if a few of these items end up under your own tree, don't worry﹣your secret's safe with me!
What to Consider When Buying a Slow Cooker
Whether you're shopping for a slow cooker for yourself or someone else, there are a few essential factors to consider:
Size
Slow cookers come in a range of sizes, but the most common capacity most people go with is 5 or 6 quarts. A 6-quart slow cooker is large enough to prepare a complete meal in, and you can also use it for food prep, soup for the whole family, and side dishes. If you have a big family or frequently cook for a crowd, you might want to consider sizing up for convenience.
Shape
I strongly recommend purchasing an oval-shaped slow cooker. I promise I'm not prejudiced against circles. It's just all about the capacity. You can fit larger cuts of meat in oval-shaped crock pots, and it takes less time to cook.
For example, if you're trying to fit large quantities of veggies underneath a roast, a round slow cooker will take more time because everything is stacked up higher.
Your Work Schedule
Even slow cookers can dry out cuts of meat if they're left on for too long. If your busy work schedule prevents you from getting home by the time the meal is done, it would be wise to choose a crockpot with a digital timer. Once the time is up, the setting switches to "warm" until you're ready to eat.
Ease of Cleaning
Slow cookers with removable, dishwasher-safe liners are the easiest to clean, and they're perfect for busy families. So if you're giving someone a slow cooker for Christmas, opt for ones that require the least amount of scrubbing. They'll appreciate the gesture!
Best Slow Cookers of 2021
Why We Love It: The Crock-Pot brand was the one that started it all, and they've done an admirable job of evolving with the times. This 6-quart Cook & Carry slow cooker is perfect for large families, tailgating parties, and holiday feasts. The digital timer shifts to the Warm setting once the cooking time finishes, and you can put the removable stone insert in both the microwave and oven.
Pros:
Oval shape maximizes capacity
Digital countdown timer keeps food warm without drying it out
Locking lid has rubber gasket for extra seal and reduced chance of messes
Oven-safe up to 400 degrees F
Cons: The slow cooker doesn't beep when it transitions to the "Warm" setting, so it may be hard to tell when the meal is officially done cooking.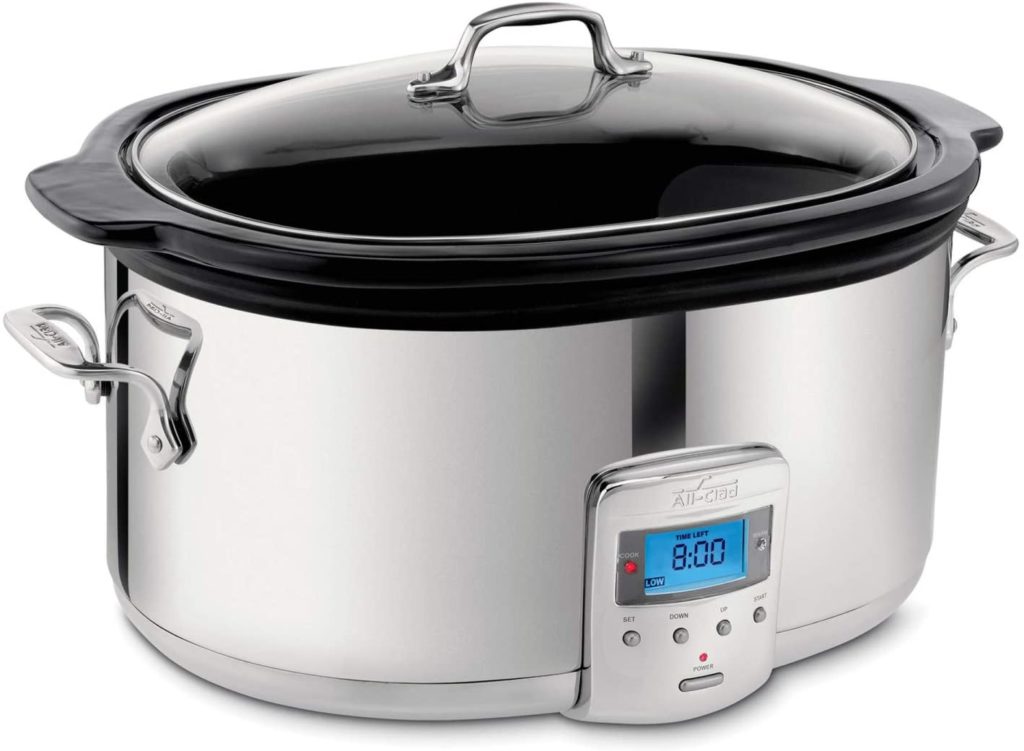 Why We Love It: The All-Clad SD700450 has a sleek, sophisticated look that's both functional and impressive. The 6.5-quart slow cooker has an easy-to-read LCD screen and push-button controls, so programming your next meal is a breeze. The black ceramic insert is dishwasher-safe for quick clean-up.
Pros:
The large oval shape holds enough food to feed a crowd
Ceramic insert with non-stick coating
20-hour programmable timer with easy push-button controls
Automatically transitions to Warm setting for up to 6 hours
Sleek stainless steel design
Cons: You can't put the ceramic insert in the microwave or oven, but that's certainly not a deal-breaker.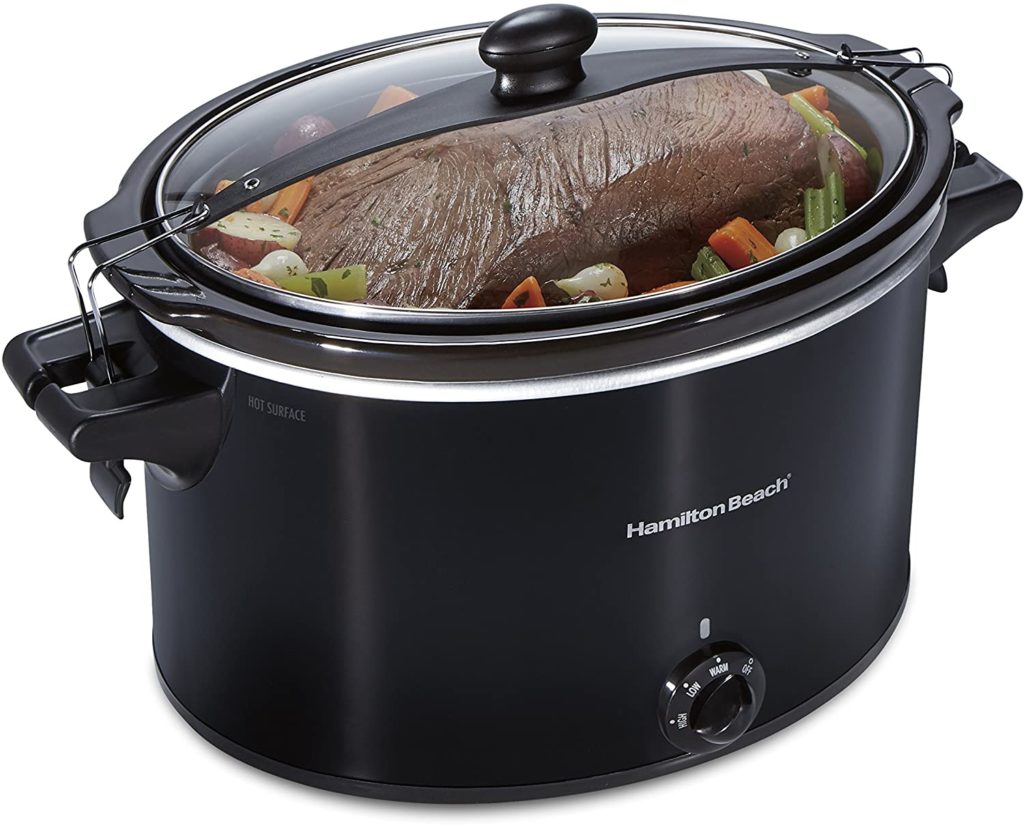 Why We Love It: This extra-large slow cooker is big enough to fit a Thanksgiving turkey or even a 12 lb roast, and you can even put the 10-quart ceramic insert in the dishwasher (but you may not have room for anything else)! The Hamilton Beach slow cooker has a classic design with a sturdy, clip-tight sealed lid to prevent spills.
Pros:
Extra-large capacity fits a 10-lb turkey or 12-lb roast
Three temperature settings mean little room for error
Tightly sealed lid for secure transport
Easy-grip handles
The glass lid and insert are dishwasher-safe
Cons: The power cord for the slow-cooker is relatively short, so you'll need an extension cord if it's more than two feet away from the outlet. There's also no power indicator light to let you know that it's on (although it would be very easy to check).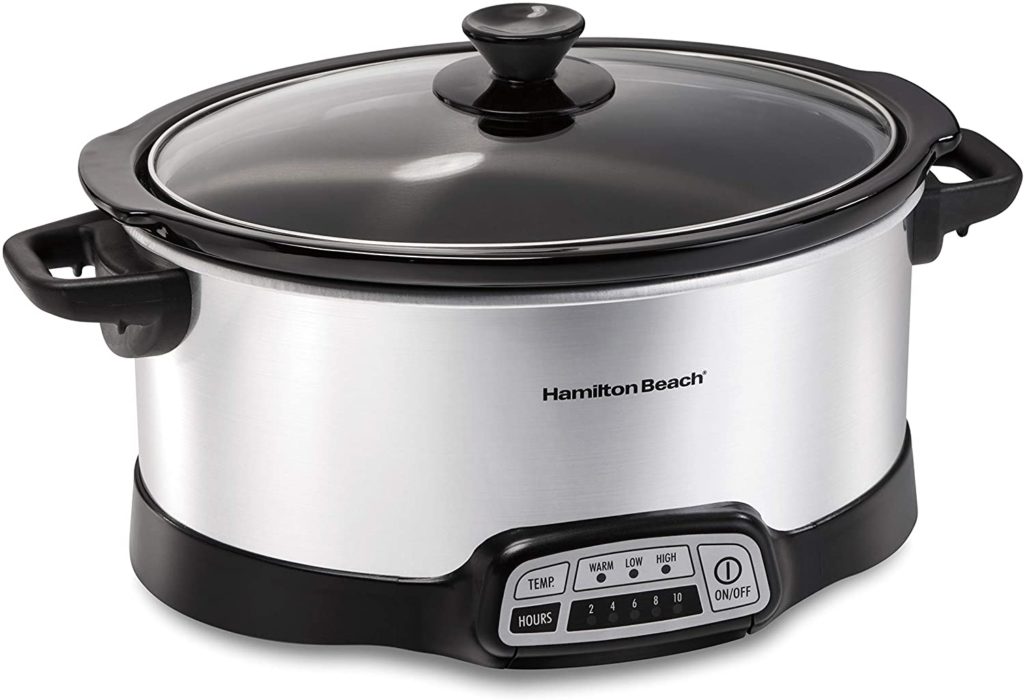 Why We Love It: This slow cooker has everything you could want for an incredibly reasonable price. It's slightly larger than the average capacity at 7 quarts, which allows you to roast a 7 lb chicken or 5 lb roast. You can also set the digital timer for up to 10 hours, and it automatically transitions to the Warm setting once finished.
Pros:
Large capacity for holiday meals, parties, or family dinners
Range of flexible programming options for optimal customization
Auto-shifts to Warm setting after cooking
Removable stoneware insert and lid can be put in the dishwasher
Cons: Sometimes, it's difficult to tell if the insert gets completely clean after washing, as the black color masks leftover food.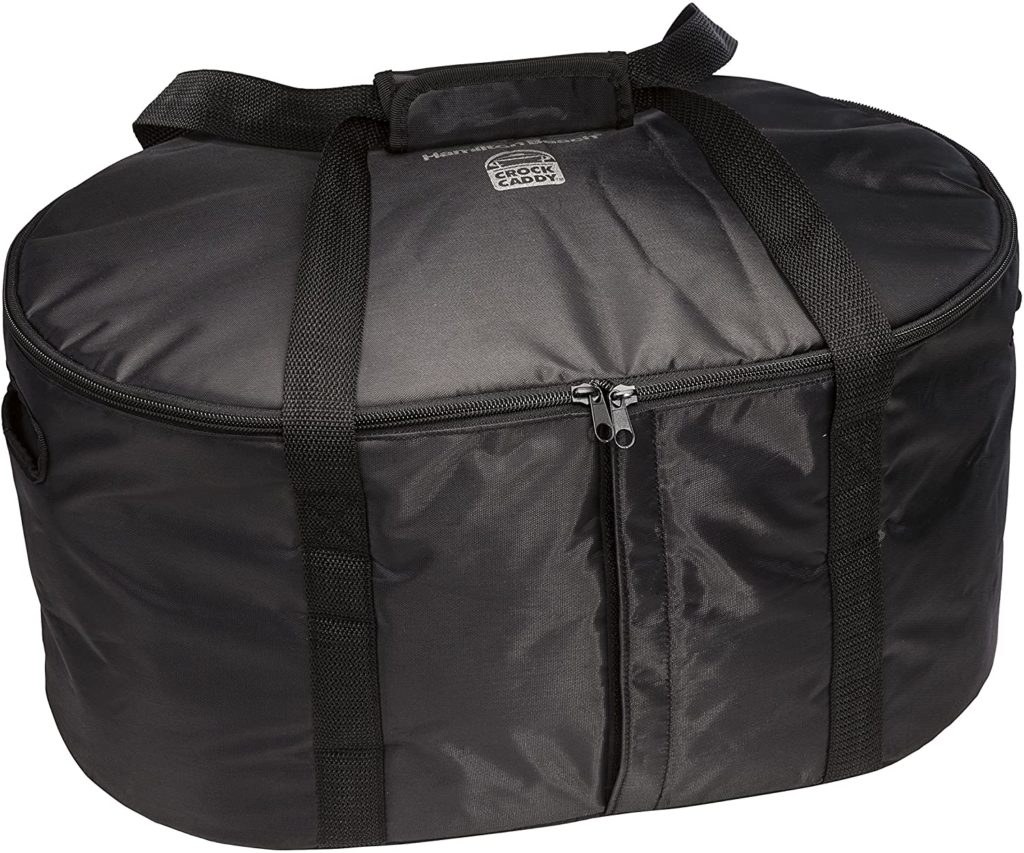 This versatile and stylish insulated slow cooker travel carrier is flexible enough to hold a range of sizes. We love that it has openings on the sides for the handles, so you can choose which way you'd like to carry it. The front-opening design makes loading up a breeze, and it keeps food warm for hours.
This slow cooker accessory is one of my all-time favorites because it makes shredding meat so much easier. Safely lift out large chunks of beef, chicken, and more with the oversized grips, and effortlessly tear it apart for mouthwatering BBQ and more.
In my opinion, you can never have too much help keeping lids on crockpots and casserole dishes. I've cleaned up enough messes to have learned that lesson! The Lid Latch is a cook's best friend, and you can adjust the silicone strap for every size of dish.
This heat-resistant silicone roasting rack is a handy slow cooker accessory if you want a healthier take on traditional recipes. The open design allows for even roasting, and you can just pop it in your dishwasher once the meal is cooked. You can even use it in air fryers and pressure cookers!
I have to say, whoever invented this accessory for slow cookers is a certified genius. These slow cooker liners eliminate needless hours of scrubbing out the ceramic insert only to get it dirty again, and you can easily lift the liner out to dispose of excess juices.
Every slow cooker chef needs a pair of high-quality oven mitts, and Big Red House mitts are heat-resistant up to 480 degrees. You don't have to worry about burning yourself while carrying your slow cooker, and these potholders have an exterior non-slip grip and a soft terry cloth interior for maximum comfort.
Protect your crockpot from oil, dust, and grease with this stylish dust cover. You can wipe the stain-proof lining out with a damp cloth, and the outer material is sturdy and water-resistant. There's even a storage pocket on the front for recipes and utensils.
You can't gift someone a new slow cooker without giving them some delicious meal ideas to go along with it! This crockpot recipe book is full of hearty, nutritious meals that fit any budget, and everyone in your family will find something they enjoy.
Slow cookers are a thoughtful, practical gift that loved ones can use to simplify their busy lives without sacrificing the quality of mealtimes. I hope my Ultimate Slow Cooker and Accessories Gift Guide has helped you find the perfect products to make someone's Christmas jolly and bright.