---
There is nothing better than waking up to a delicious breakfast, with the aroma of the pumpkin filling your kitchen! Today, I give you my foolproof recipe for Slow Cooker Pumpkin Bread.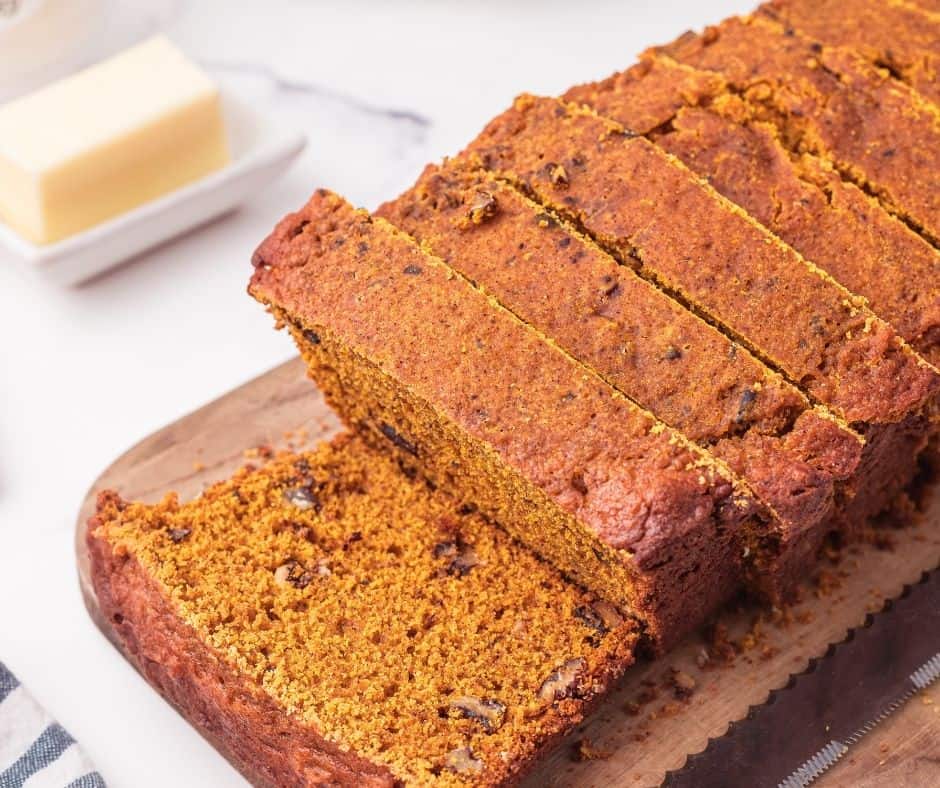 I love a great holiday bread, and this is the perfect bread to serve at Thanksgiving or a busy fall weekend. Since the crockpot does all of the work for you!
If you have never baked before in your crockpot, the pumpkin bread comes out amazingly, moist, tender, and absolutely delicious.
If you are looking for even more Slow Cooker Recipes, some of my favorites are: COFFEE BREAK TIME-CROCKPOT PUMPKIN SPICED LATTE, SLOW COOKER-GINGER LEMON HOT TODDIES, SLOW COOKER-CHINESE ORANGE CHICKEN, SLOW COOKER-ROCKY ROAD FUDGE and SLOW COOKER-HOT CARAMEL DIP.
What Is Pumpkin Bread?
Pumpkin bread is a traditional loaf bread that is infused with pumpkin. It makes for a great fall breakfast, dessert, or snack.
There are usually a handful of spices that give the pumpkin some extra flavor. Today I used ground cinnamon, ground mace and added some toasted pecans for even more flavor.
In about September in the United States, it becomes increasingly popular and hits the highest when Starbucks Pumpkin Spice Latte comes out, then the websites are flooding with pumpkin recipes!
Ingredients In Slow Cooker Pumpkin Bread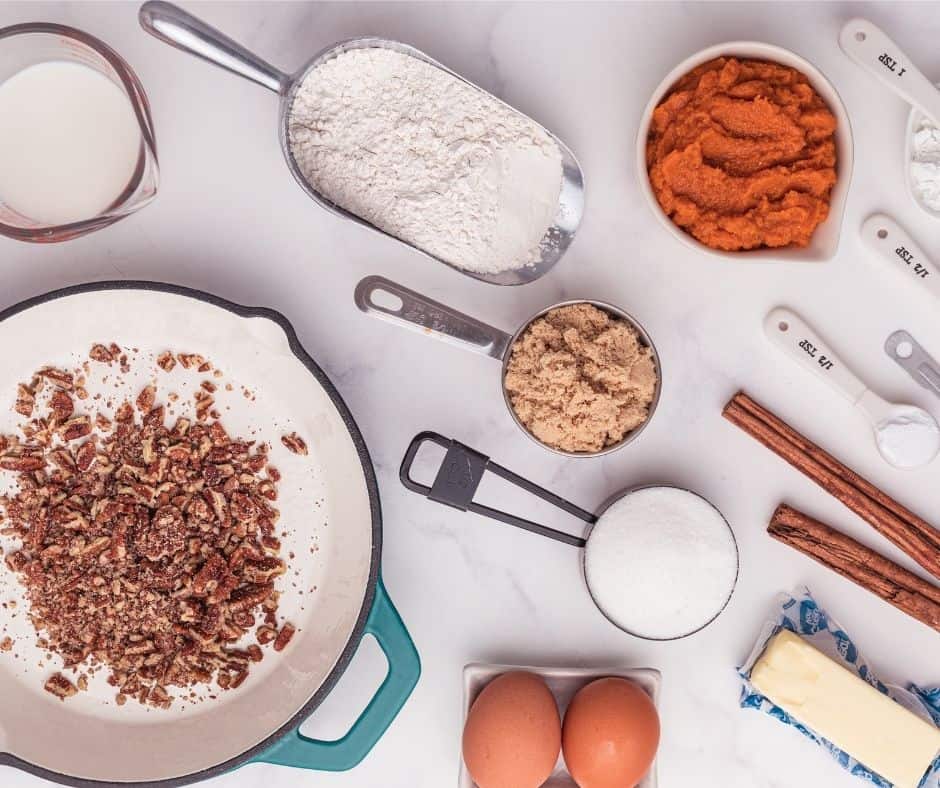 Canned Pumpkin
Butter
Light Brown sugar
Milk
Eggs
All-Purpose Flour
Baking Powder
Baking Soda
Salt
Ground Cinnamon
Ground Mace
Toasted Pecans
How To Make Crockpot Pumpkin Bread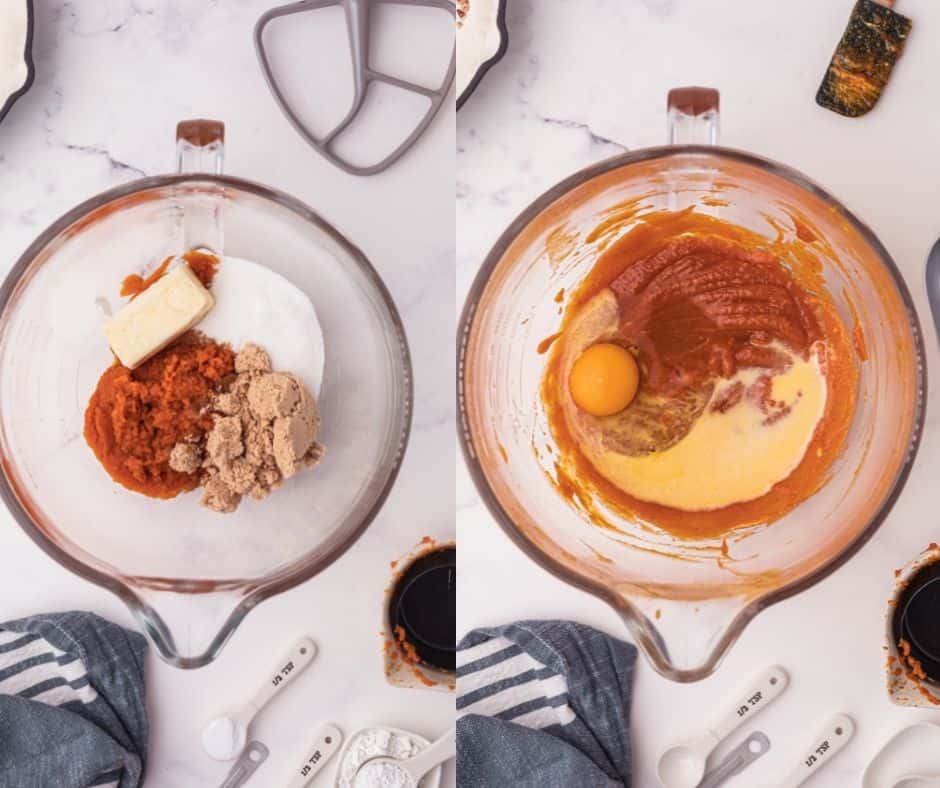 Beat the pumpkin, butter, and both sugars until well combined. Mix in the eggs and milk.
Add all the dry ingredients (except pecans) to a medium mixing bowl and mix well using a whisk. Add dry ingredients to the wet ingredients and stir together until just combined.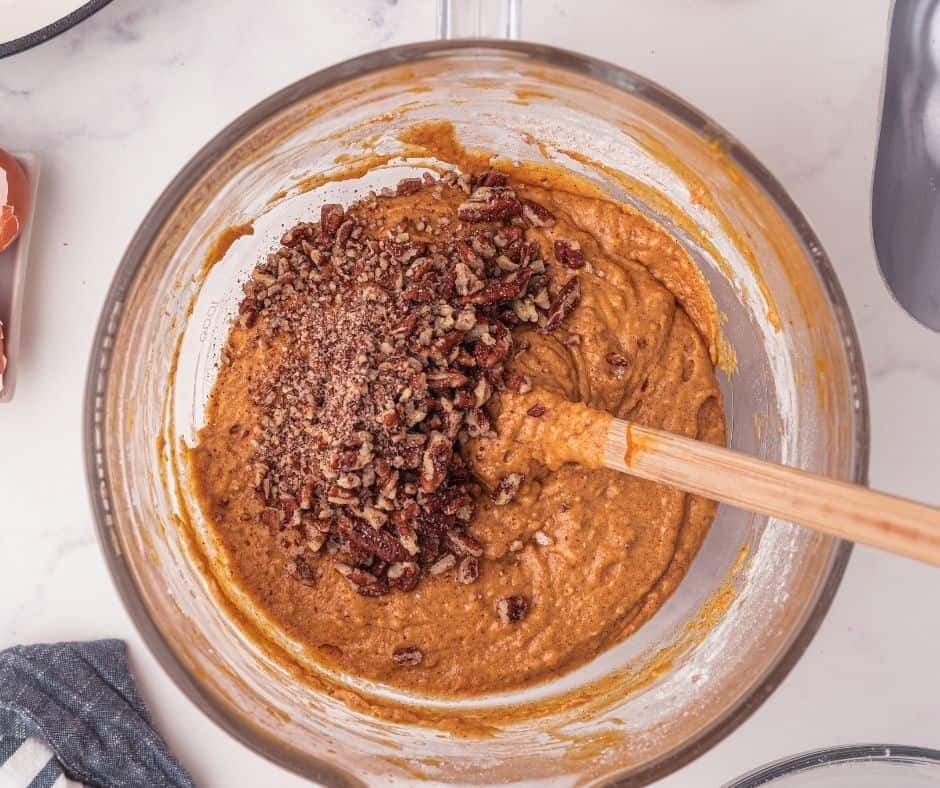 Carefully stir in the pecans.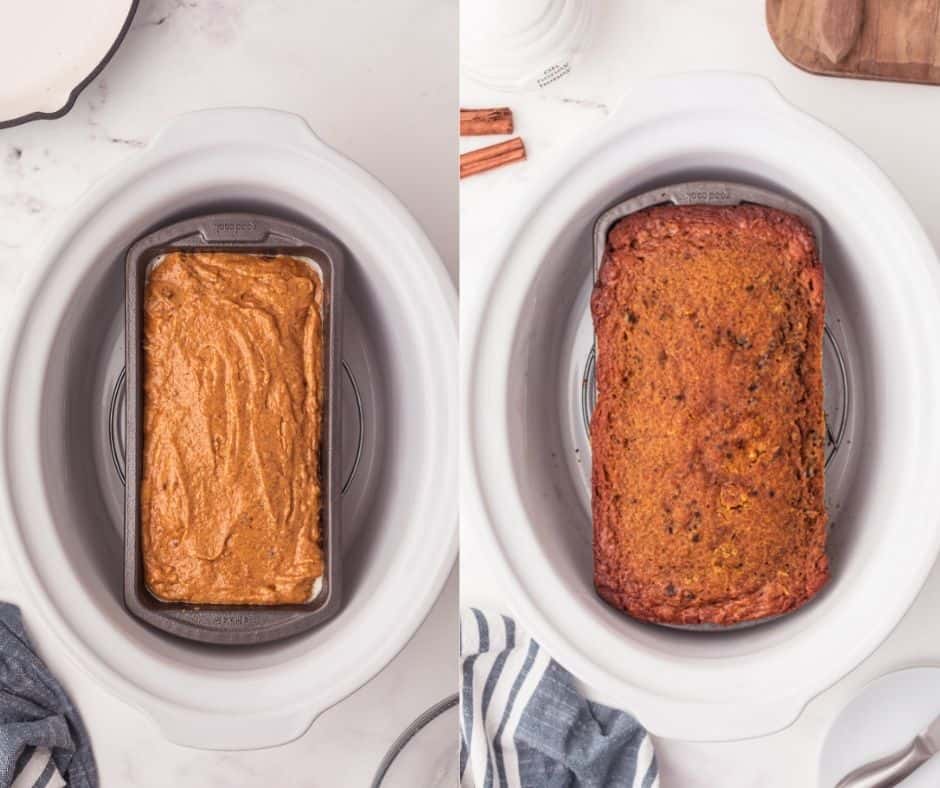 Pour the batter into a greased 8×4" Loaf pan and place it on a rack in a crockpot (6 quarts or bigger). Cover the crockpot with a kitchen towel and hold it in place with a lid.
Turn on high and cook for about 3-1/2 hours until a toothpick comes out clean.
Cool in the pan on a wire rack for 5 minutes, then remove from the loaf pan.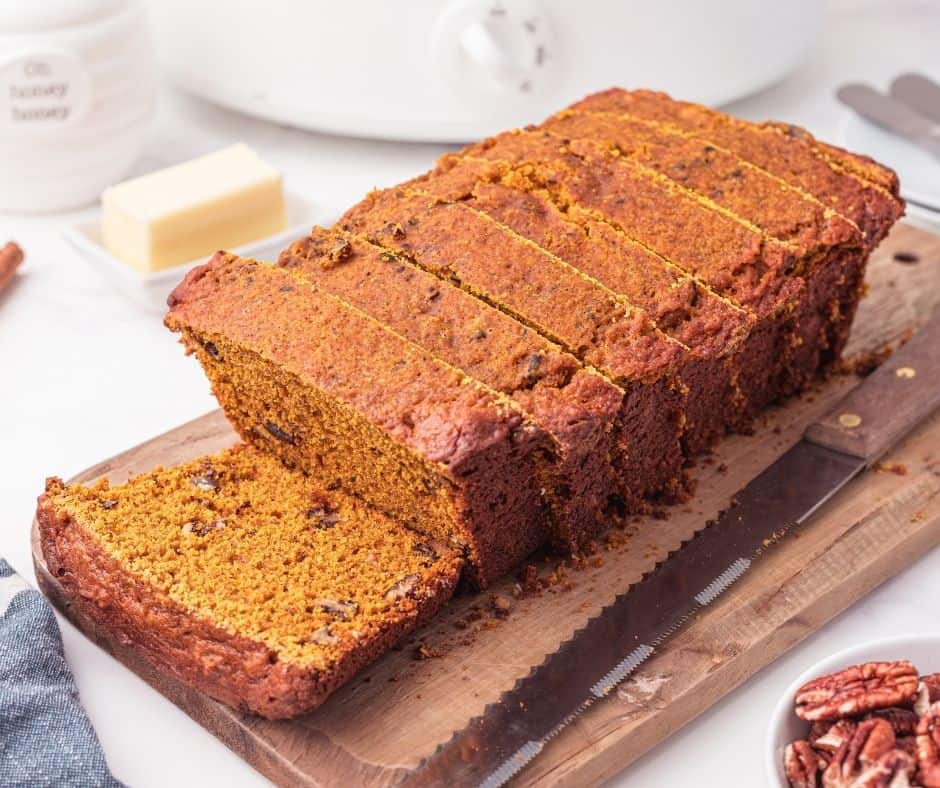 How do you keep pumpkin bread moist?
After pumpkin bread is cooked in the crockpot, it's essential you wrap it in saran wrap and then wrap it in foil.
If you do not wrap it up tightly, the pumpkin bread will become hard as it will start to dry out. So, try to keep air out of it. A great solution is a Ziploc Bag.
What goes good in pumpkin bread?
While today I added some crushed pecans, you can add anything that you wish. Some common add ins are:
Mini Chocolate Chips, Peanut Butter Chips
Spices: Ground Cinnamon, Nutmeg, Ginger, Cloves
Nutella, Cream Cheese, Apple Butter and Cinnamon Honey Butter
What makes pumpkin bread rise?
Although we do not use yeast in this Crockpot Pumpkin Bread, you will still get a fluffy loaf of bread because the recipe calls for baking powder and baking soda.
Should you refrigerate pumpkin bread?
To store pumpkin bread, you should leave it on the counter if you will eat it for 4 to 5 days.
If you still have a fair amount of Crockpot Pumpkin Bread on the third day, cover it tightly with saran wrap, wrap it in foil, and place it into the refrigerator. Where it will last longer, in the refrigerator, it should last about a week.
How do you know when pumpkin bread is done?
The easiest way to tell if Crockpot Pumpkin Bread is done is to use a toothpick and press it into the center of the bread.
If the toothpick comes out clean the bread is done, if not it needs a few more minutes.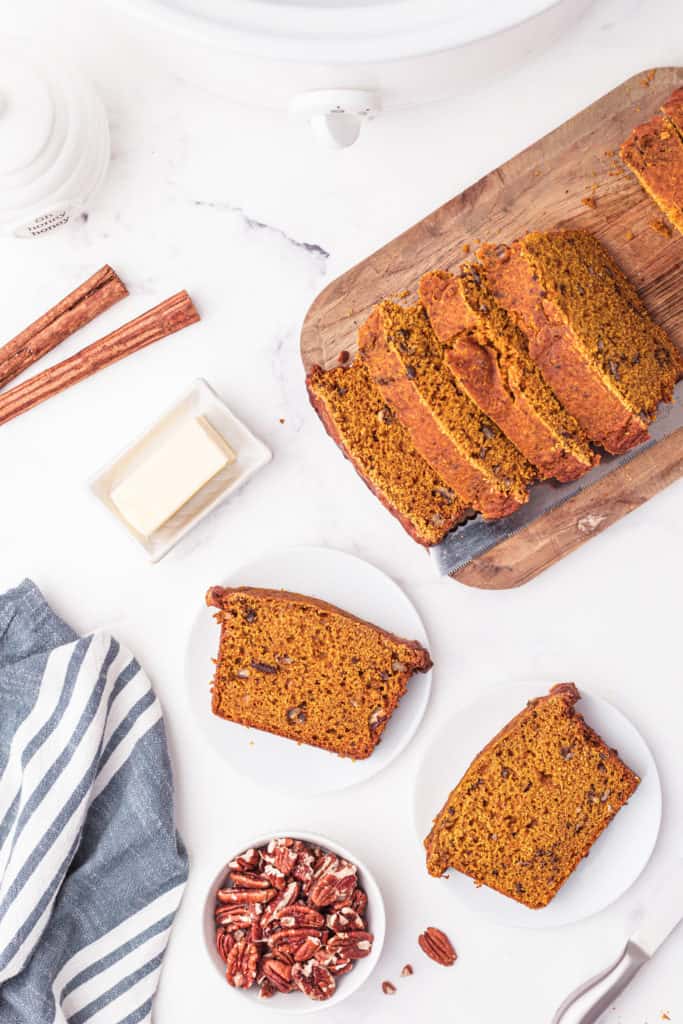 Is pumpkin puree the same as canned pumpkin?
Yes, canned pumpkin and pumpkin puree are the same thing. They are interchangeable in most recipes.
However, they are not the same as pumpkin pie filling, which has already been sweetened and spices added.
Can you use pumpkin guts for puree?
If you are carving a pumpkin and want to know what to do with the pumpkin guts you have when you scoop out the pumpkin, go ahead and substitute them for any recipe that calls for pumpkin puree or canned pumpkin.
Remember to carefully remove the seeds.
How do you eat pumpkin bread?
You can eat it as is, or you can add a topping on top. Some of the most common ones are:
Nutella
Cream cheese
Butter
Honey
Apple Butter
What happens if you forget to put baking soda in pumpkin bread?
If you forget to add baking soda into the pumpkin bread, you will end up with a very dense loaf of bread.
Since there is no yeast in this recipe, the baking soda acts as an acid and causes the quick bread to rise. So, if you omit the baking soda in the pumpkin bread, your bread will be flat and quite dense.
At what temperature is pumpkin bread done?
Pumpkin bread is said to be done when the internal temperature reaches between 190 degrees F to 210 degrees F.
Or the better test is that when the toothpick comes out clean, the bread is fully cooked and can be removed from the crockpot/slow cooker.
Why does pumpkin bread crack on top?
If you find that your Crockpot Pumpkin Bread has started to crack, all that means is that the bread set before the Crockpot Pumpkin Bread was done cooking.
Is pumpkin good for losing weight?
Many people looking to lose weight will turn to pumpkins since pumpkins are very low in calories but high in fiber.
Looking For More Crockpot Recipes?
Don't Forget To Pin-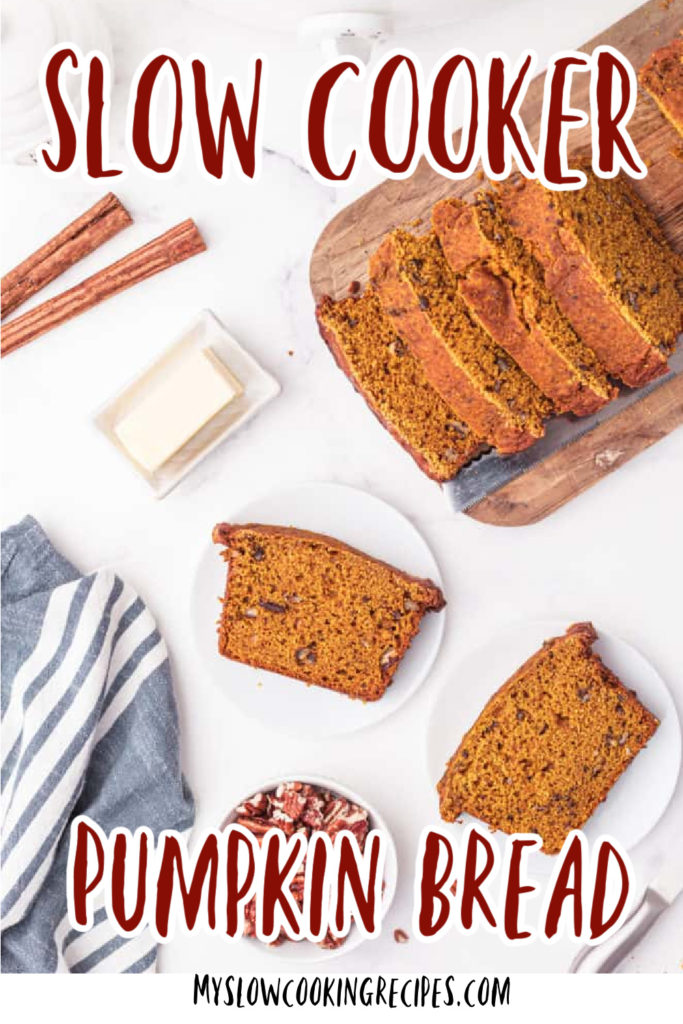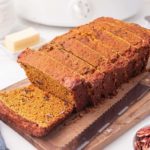 Print Recipe
Slow Cooker Pumpkin Bread
There is nothing better than waking up to a delicious breakfast, with the aroma of the pumpkin filling your kitchen! Today, I give you my foolproof recipe for Slow Cooker Pumpkin Bread.
Ingredients
1

Cup

Canned Pumpkin

4

Tablespoons

Butter

unsalted room temperature

½

Cup

Light Brown Sugar

packed

½

Cup

Granulated Sugar

½

Cup

Whole Milk

2

Large Eggs

2

cups

All-Purpose Flour

spooned and leveled

2

Teaspoons

Baking Powder

½

Teaspoon

Baking Soda

¾

Teaspoon

Salt

1-1/2

Teaspoons

Ground Cinnamon

½

Teaspoon

Ground Mace

½

Cup

Chopped Toasted Pecans
Instructions
Beat the pumpkin, butter, and both sugars until well combined.

Mix in the eggs and milk.

Add all the dry ingredients (except pecans) to a medium mixing bowl and mix well using a whisk.

Add dry ingredients to the wet ingredients and stir together until just combined.

Carefully stir in the pecans.

Pour the batter into a greased 8×4" Loaf pan and place it on a rack in a crockpot (6 quarts or bigger).

Cover the crockpot with a kitchen towel and hold it in place with the lid.

Turn on high and cook for about 3-1/2 hours until a toothpick comes out clean.

Cool in the pan on a wire rack for 5 minutes, then remove from the loaf pan.

Plate, serve, and enjoy
Nutrition
Calories:
697
kcal
|
Carbohydrates:
109
g
|
Protein:
12
g
|
Fat:
25
g
|
Saturated Fat:
10
g
|
Polyunsaturated Fat:
4
g
|
Monounsaturated Fat:
10
g
|
Trans Fat:
1
g
|
Cholesterol:
115
mg
|
Sodium:
942
mg
|
Potassium:
363
mg
|
Fiber:
5
g
|
Sugar:
56
g
|
Vitamin A:
10061
IU
|
Vitamin C:
3
mg
|
Calcium:
229
mg
|
Iron:
5
mg