---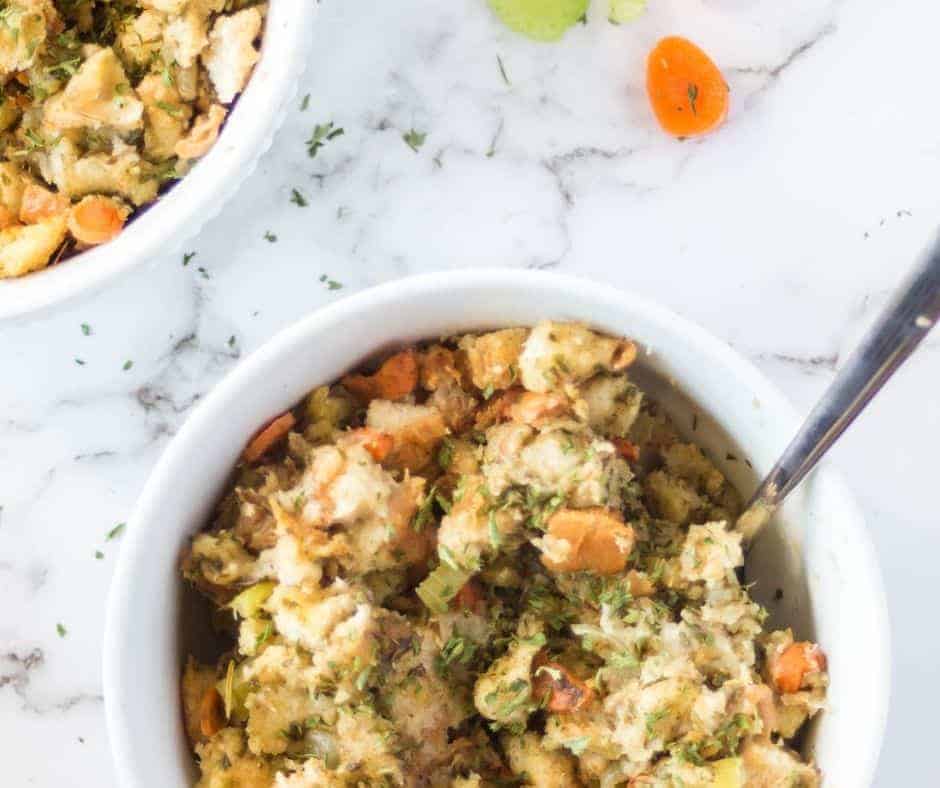 Slow Cooker or Crockpot Stuffing is amazing. It is one of my favorite stuffing recipes, and it is a perfect holiday dish since it cooks up in the crockpot. This is the perfect Thanksgiving or Christmas dish for your dinner.
Crockpot Stuffing is a classic stuffing recipe with ingredients, including bread, carrots, celery, onions, garlic, and lots of spices. This is really a descendant dish with lots of flavors and with minimal work.
Once you make crockpot stuffing, you will release how easy it is, and you will never go back to making it on the stove again. I love that I do not have to use my stove during the busy holiday dinner.
Crockpot Stuffing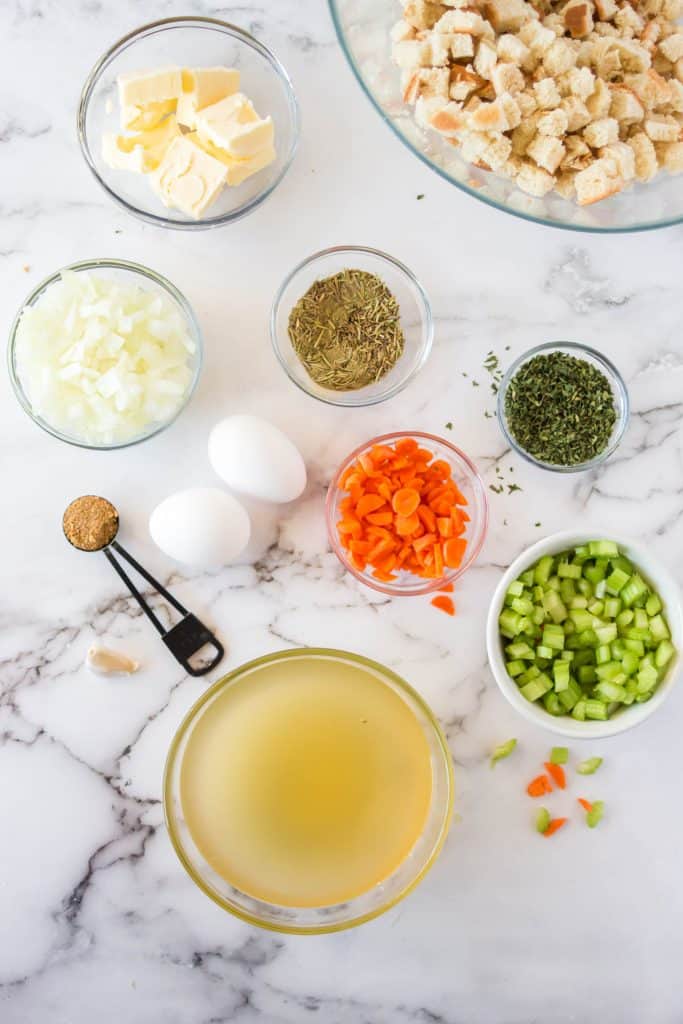 Ingredients:
Bread
Chicken Broth
Eggs
Seasonings: Poultry, Black Pepper, Parsley, Sage, Thyme, Marjoram, Rosemary.
Eggs
Butter
Onions
Celery
Carrots
Minced Garlic
Simple Directions: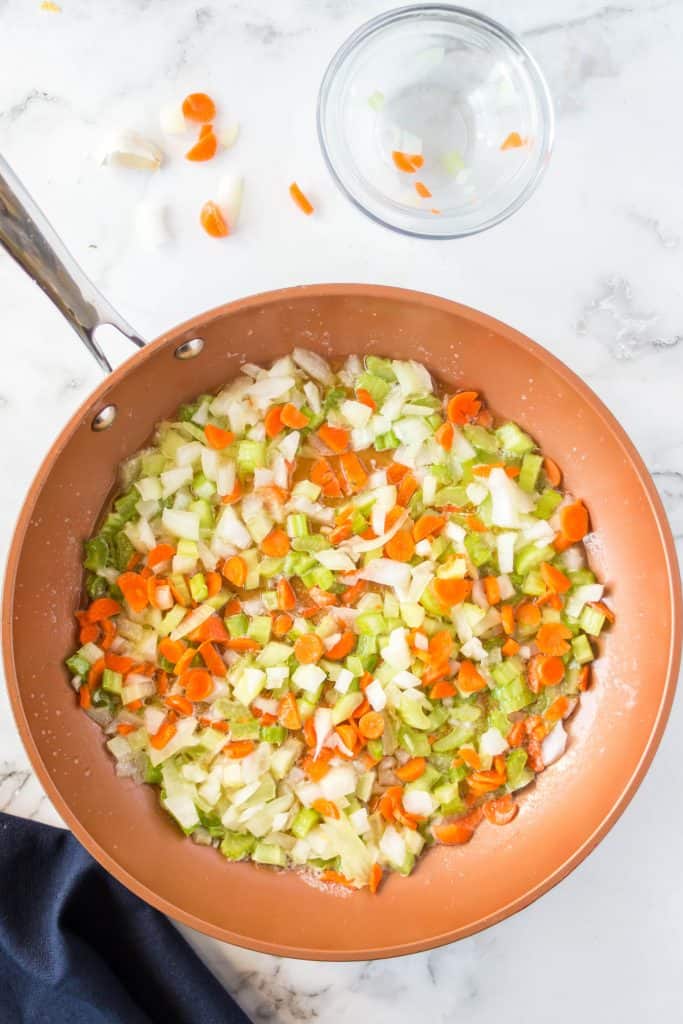 In a skillet, add the butter, turn on the heat to low, and allow the butter to melt. As it melts, add the diced onions, celery, and carrots, saute until soft, about 10 to 12 minutes. Add in the minced garlic. Remove from heat.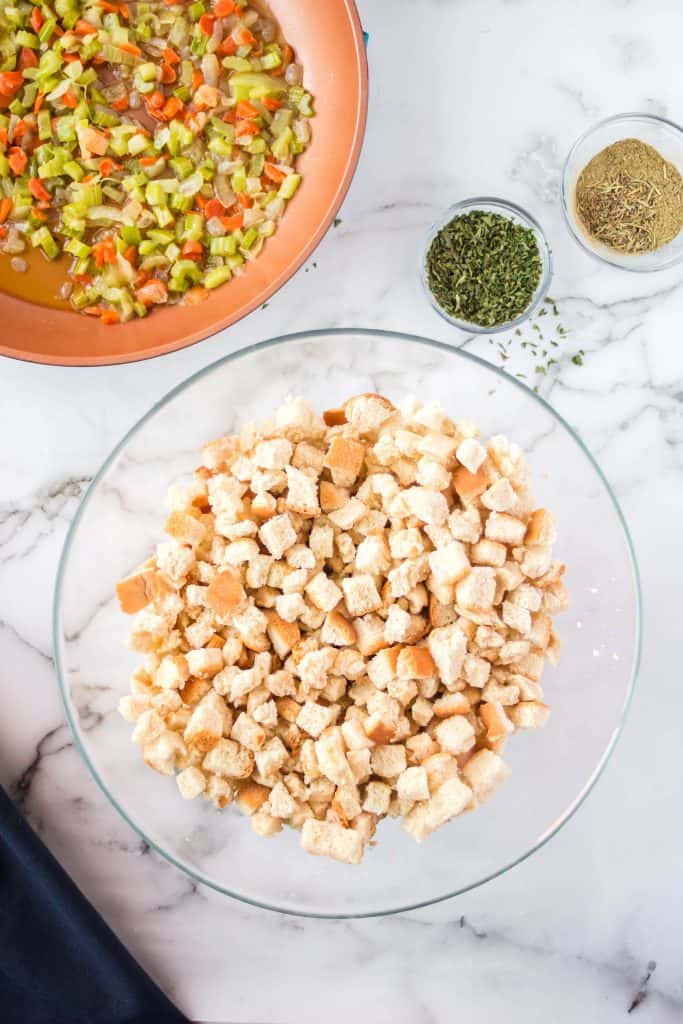 Cut your bread into cubes and then spread the bread cubes over a baking sheet, in a preheated 275 degrees F, oven for 40-45 minutes, until they are dried out. Let cool slightly, before removing.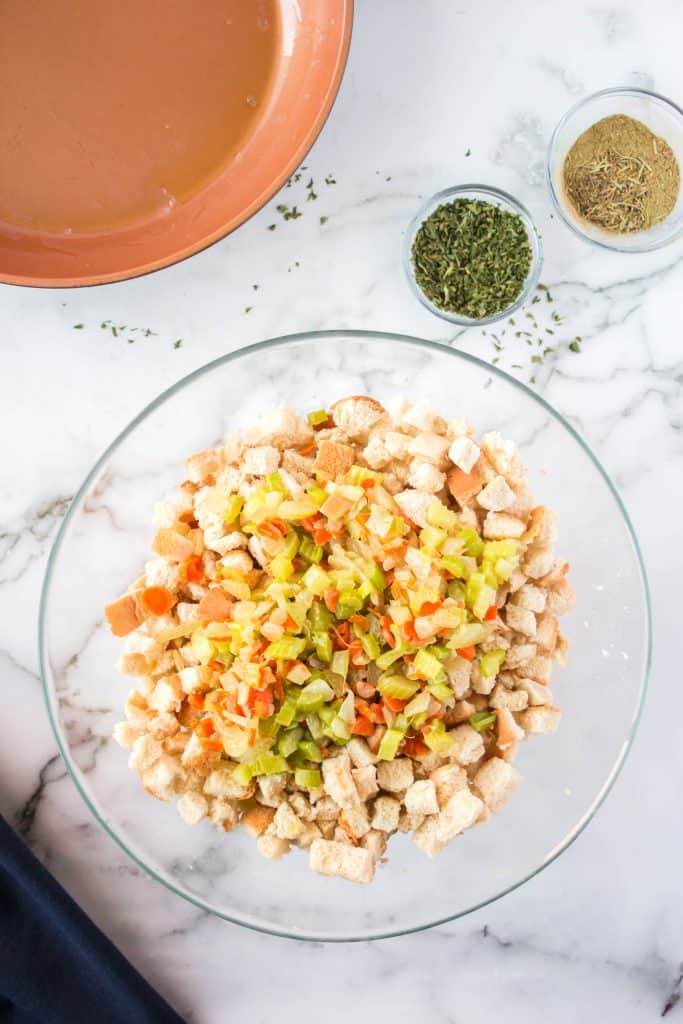 Pour the sauted vegetables over the dried bread crumbs. Mix well. Add the seasonings, mix well.
In a large mixing bowl, mix the chicken broth and eggs. In the bread cubes/sauteed vegetable bowl, pour in the liquid mixture.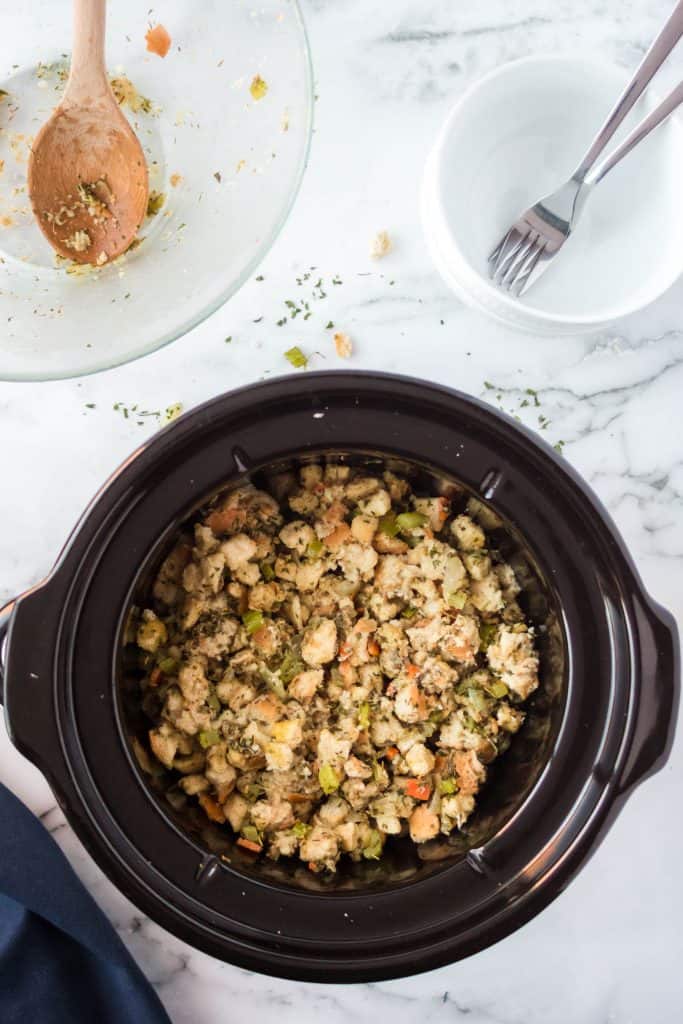 After you mix all of the stuffing ingredients, spray the crockpot with non-stick cooking spray, and pour the stuffing into it.
Cover and cook on high for 30 minutes on low.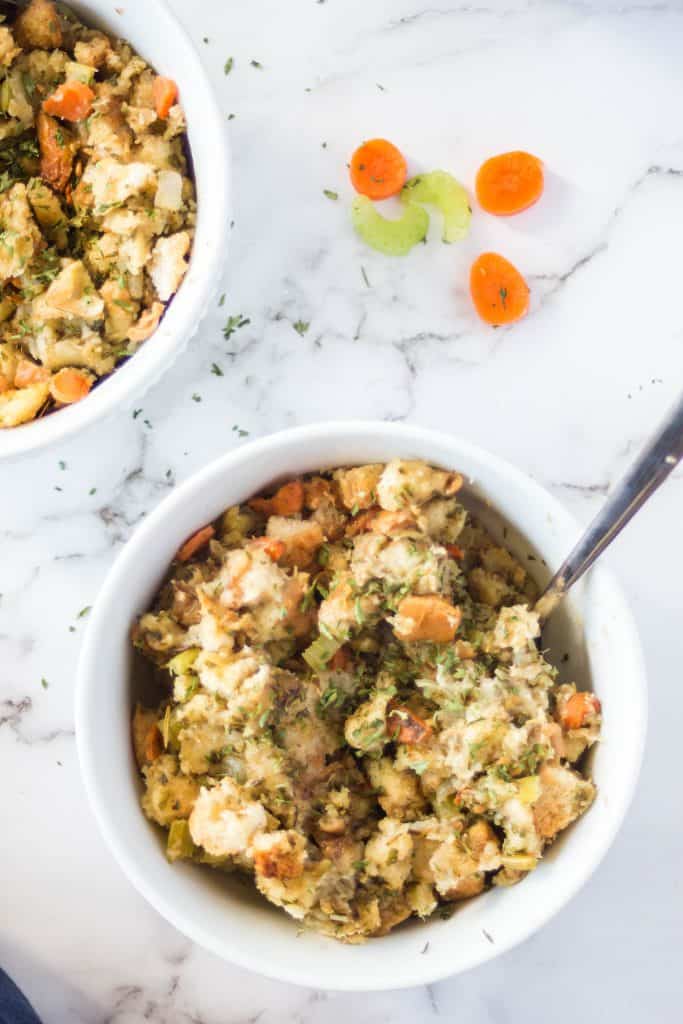 What Is The Best Bread For Stuffing?
The best bread is really anything that you have in the house. I usually buy a few extra loaves of bread if I know that I will make it so that the bread has time to dry out.
I usually purchase a few loaves of white sandwich bread, which I used in this recipe since it is relatively widely available.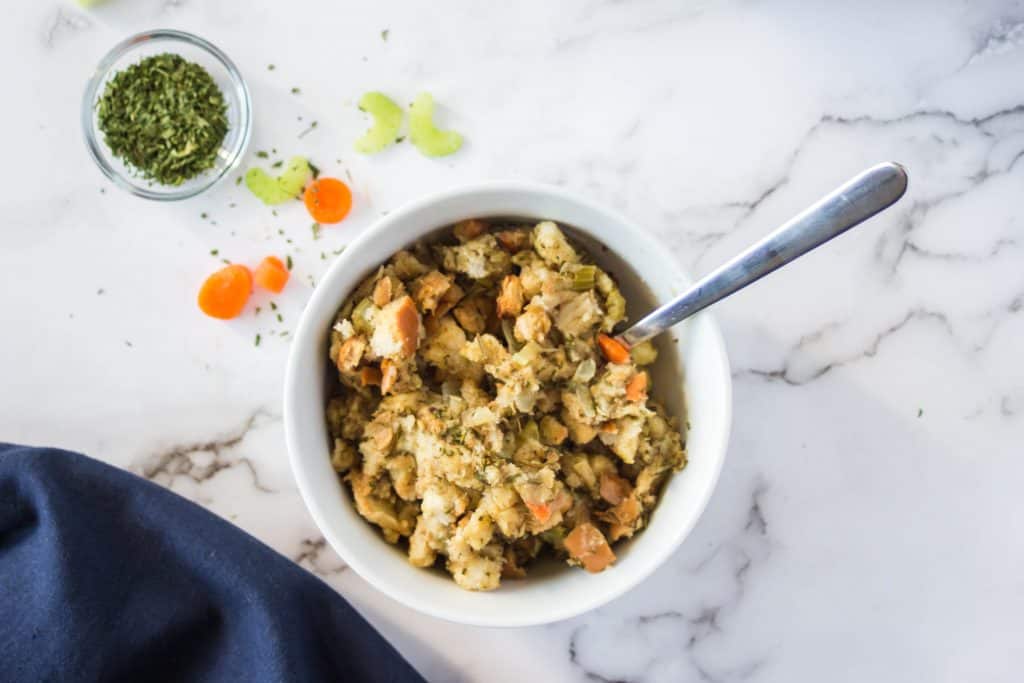 How To Dry Bread Out For Stuffing:
If you have never made dried bread cubes. here are a few hints that I can give to you.
Dice the bread into even cubed pieces, so they all cook at the same time.
The ideal cube size for this recipe is about 1/2 inch pieces.
After you spread out the bread on a baking sheet, make sure that you toss it several times during the cooking process so it's evenly cooked.
Let cool slightly, before adding to the sauteed vegetables, this way the bread cubes hold their shape.
Some Other Great Stuffing Recipes–
INSTANT POT, HOW TO MAKE STOVETOP STUFFING IN THE INSTANT POT
HOW TO MAKE STOVETOP STUFFING IN YOUR AIR FRYER
SOME HELPFUL PRODUCT USED IN THIS RECIPE–
Disclosure: Some of the links below are affiliate links. At no cost to you, I will earn a commission if you click through and make a purchase.
Don't Forget To Pin–